Posted on: 20th September 2023
Monitoring cameras that track native and feral species for the Marna Banggara project, photographed the cat on more than six occasions, including one of the cat carrying an unidentified victim.
The Marna Banggara project, which has returned locally extinct brush-tailed bettongs to southern Yorke Peninsula after an absence of more than 100 years, was jointly funded through the Northern and Yorke Landscape Board, the Australian Government's National Landcare Program, the SA Department for Environment and Water (DEW), WWF-Australia, and Foundation for National Parks & Wildlife.
Northern and Yorke Landscape Board Ecologist Derek Sandow appealed to pet owners to recognise their cat's natural hunting instinct and help protect local native species.
"Cats, both ferals and pets, kill more than one billion mammals in Australia every year," he said.
"It's tempting to think that pet cats are not the culprits, but the fact is that pet cats allowed to roam, kill 390 million mammals, birds and reptiles every year. And most of their prey are native species."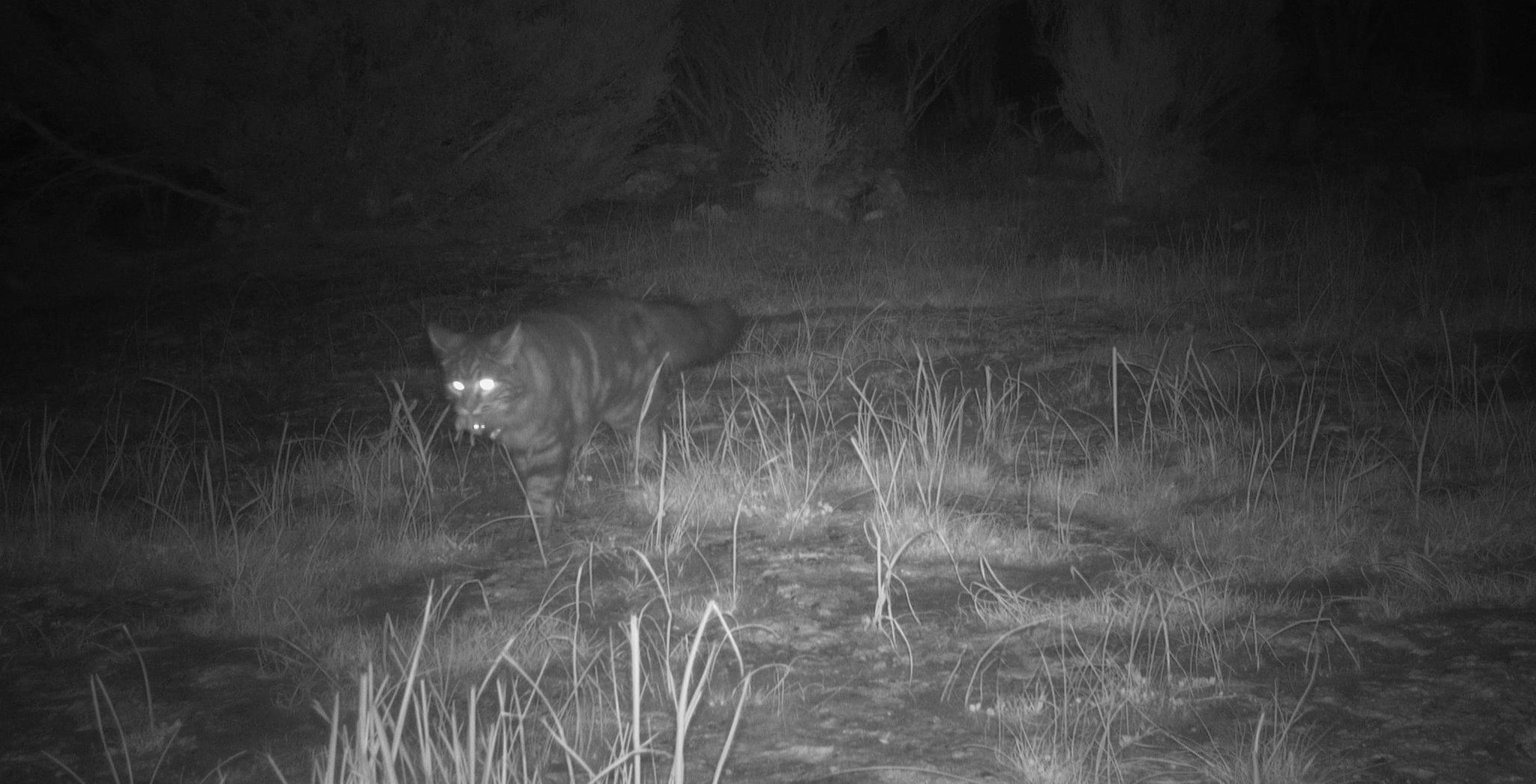 The Northern and Yorke Landscape Board worked with rangers from Dhilba Guuranda-Innes National Park to identify the cat in question and notify its owner, who was shocked by their cat's night-time activities.
Mr Sandow said cat bells are not a viable option for protecting native species from a stalking cat.
"While some studies report that cats wearing bells bring fewer prey items home, others show that they learn quickly how to move and hunt without making a sound until it's too late. It's not an effective method to stop your cat from hunting.
The Marna Banggara project has returned nearly 200 brush-tailed bettongs to southern Yorke Peninsula during the past three years. Known as yalgiri in the language of the local Narungga people, the now endangered marsupials once inhabited more than 60% of mainland Australia prior to colonisation. They disappeared more than 100 years ago from Yorke Peninsula due to habitat loss and the spread of introduced predators such as foxes and feral cats.
Recent monitoring showed the returned yalgiri on southern Yorke Peninsula are breeding, with almost half of the 85 yalgiri caught by researchers born on Yorke Peninsula and nearly every female carrying pouch young. The next monitoring exercise is planned for later this year, but Mr Sandow said the cameras were showing many yalgiri with bulging pouches.
"It would be devastating to lose any of the recently-released yalgiri or their offspring to roaming local cats," said Mr Sandow. "If you own a cat, please don't let it stray from home."