Posted on: 21st October 2021
An emergency rescue team sprang into action on the eve of the October long weekend in a desperate bid to save an injured Hooded Plover at Port Victoria, Yorke Peninsula.
The threatened beach-nesting bird's predicament was spotted by Friends of the Hooded Plover Yorke Peninsula volunteer Annie Hopkins and her daughter Grace Disher during an afternoon walk on Rifle Butts Beach.
"We saw the Hoodie pair near the foot of the dunes, but we could tell straight away that something was wrong," said Annie. "One of the birds was hopping on one foot, and tucking the other foot up under itself. It wasn't able to forage or scuttle along the sand in the endearing way these birds usually move. I looked closely with my binoculars and saw a tangle of blue twine wrapped around the injured foot. The toes looked swollen and the hoodie was clearly distressed."

We saw the Hoodie pair near the foot of the dunes, but we could tell straight away that something was wrong

—Annie Hopkins
Right now is nesting season for this vulnerable bird that pairs with its mate each year and cares for its eggs in shallow scrapes on the beach. The Hopkins have followed the adventures of this particular Hoodie pair for many years, even naming them 'Bob' and 'Marge'.
Annie's quick thinking set a crisis response into action, but bringing together a specialised team just before a long weekend wasn't easy. An expert Hoodie catcher was required, with BirdLife Australia's Emma Stephens responding to the call and making the trip from Adelaide in long-weekend traffic. And after at least 30 phone calls and a cry for help by Adelaide Zoo's Dr Jenny McLelland on Facebook, a vet was found. Dr Veronica Bhakti of Seaside Vet in Wallaroo generously made herself available to treat the bird on the beach, helping to minimise stress.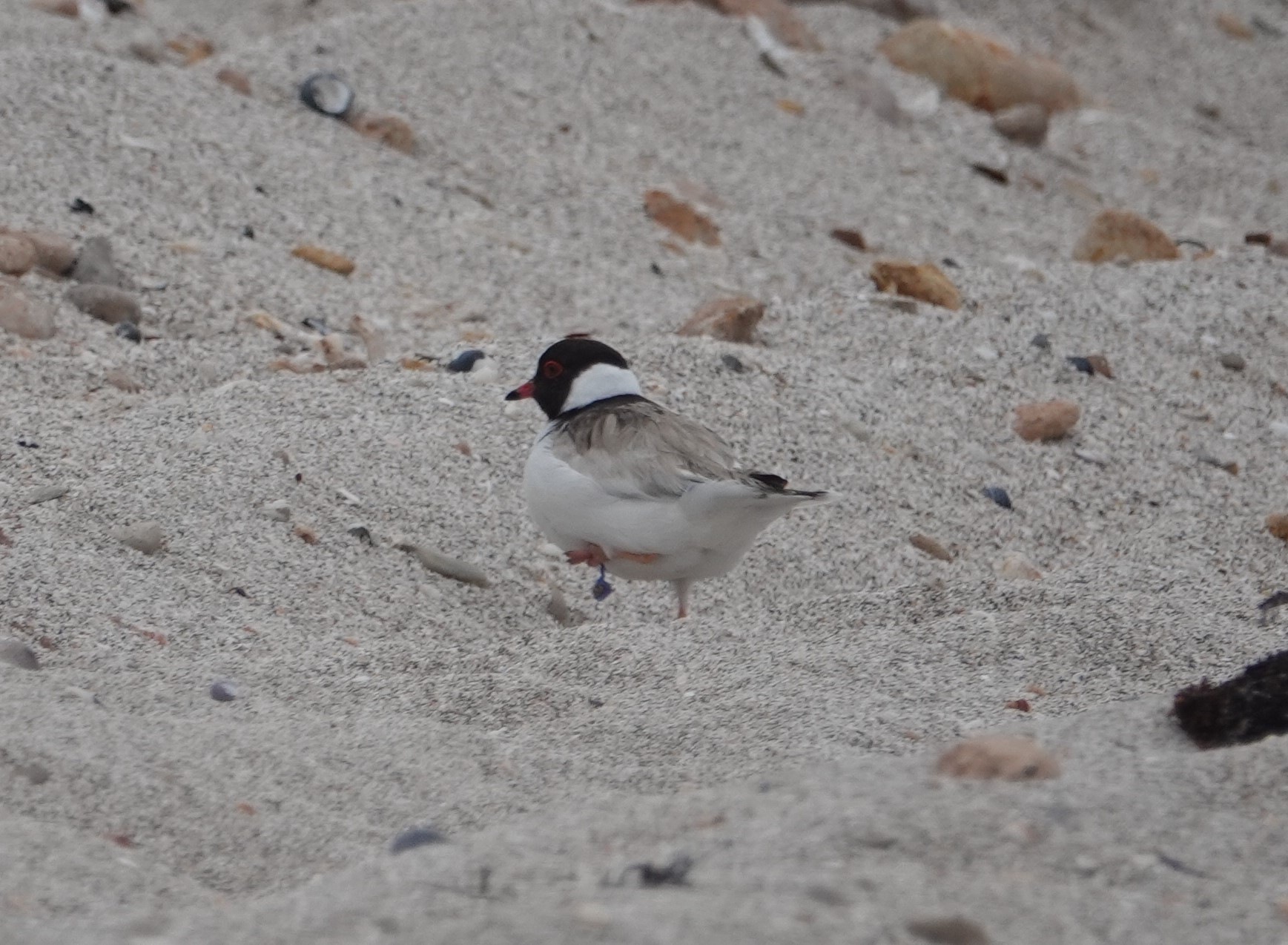 Even with the right team in place, including Annie, Grace and Northern and Yorke Landscape Board Officer Fabienne Dee, the cold and blustery conditions and fading light meant everything had to go according to plan.
A Red-capped Plover made a timely arrival to distract the healthy Hoodie at just the right moment and the injured Hoodie was soon safely encased in a calico bag ready for treatment. Signs that the Hoodie was suffering were evident, according to Dr Bhakti.
"The bird was slightly underweight, with a body condition score of 2/5, mildly dehydrated," she said. "This could be due to pain and having to hop on one leg for a few days. If the fibres were left wrapped around the toes, eventually blood supply would be cut off and the toes would die. The bird would be left without toes on the affected foot, which would greatly decrease its ability to forage and escape predators - both critical for its survival.
"As a vulnerable species, every bird counts, so it was imperative that we saved one half of a breeding pair so that they could continue producing more baby hooded plovers."
After the delicate operation of removing the tiny fibres and treating the wound, the Hoodie was immediately released to return to its mate and sighted a couple of days later, scurrying along the beach on both feet.
Minister for Environment and Water, David Speirs, congratulated everyone involved on their efforts.
"Hooded plovers are an amazing little species and are being slowly nurtured back from the brink of extinction by dedicated volunteers all across the state," Minister Speirs said.
"Quick thinking and commitment were the hallmark of this successful rescue and I want to thank those who did their bit."
According to Annie it was wonderful to witness first-hand a group of female scientists in action and even better to see the Hoodie pair thriving again.
"Apparently Bob and Marge are showing signs of continued breeding behaviours after their ordeal," she said. "We're looking forward to reporting on positive progress as the season continues."
While the breeding season has seen several nests lost due to bad weather, there are still plenty of nests being monitored by volunteers across Yorke Peninsula. "There are currently two families with chicks at Port Victoria and one each at Port Hughes, Point Turton, Corny Point, Port Moorowie and Port Julia," said Northern and Yorke Landscape Board Officer Janet Moore. Fledgling birds are yet to be sighted, so it is important to watch out for nests, eggs and chicks and keep your distance by walking close to the water's edge and keeping your dogs on a leash.
This close call for the Hoodie at Port Victoria is a good reminder for all beach-goers to pick up any litter on the beach. Rubbish collecting kits, including bags, gloves and litter pickers are available for loan on Yorke Peninsula if you would like to organise a beach clean-up with friends or a community group. It is important to be aware of where Hoodies nest before you carry out a clean-up activity so please contact Northern and Yorke Landscape Board Officer Janet Moore on 8841 3444 to find out more.
Marna Banggara, which includes the Hooded Plover project, is jointly funded through the Northern and Yorke Landscape Board, the Australian Government's National Landcare Program, the South Australian Department for Environment and Water, WWF-Australia and Foundation for National Parks & Wildlife.
Other partners actively involved in developing and delivering the project include Regional Development Australia, South Australian Tourism Commission, Zoos SA, FAUNA Research Alliance, BirdLife Australia, Nature Conservation Society of SA, Narungga Nation Aboriginal Corporation, Primary Producers SA, Primary Industries and Regions SA, Conservation Volunteers Australia, Legatus Group, Yorke Peninsula Council, Yorke Peninsula Tourism and the Scientific Expedition Group.